Preston Pedals is a Climate Action Preston project that is increasing everyday cycling in Preston.
There are three main elements:
Bike repair and maintenance – Experienced bike mechanics and trainers working together with volunteers repairing and servicing donated/second-hand bikes.
Support to ride – Confidence building of beginners and non-regular cyclists through learn to ride sessions and led rides.
Developing cycling culture –Promoting a culture of everyday cycling in Preston for proven benefits for health and wellbeing, as well as tackling climate change. Friends of the Earth estimated as little as 2% of journeys in Preston are by bike, which means there's a long way to go before we reach the national target of half of all urban journeys being walked or cycled by 2030.
Activities are targeted in areas of Preston where cycling is less popular as leisure pursuit, with, for example, Muslim women, refugees, unemployed people and other groups so that non-regular cyclists benefit most.
Preston Pedals was launched at the National Cycle Week event on Avenham Park on June 12th '22. See the launch video .
The completed project, funded by National Lottery "Together for the Planet", delivered:
25 bike repair/maintenance sessions in four community venues, involving 40 individuals+ from diverse backgrounds
Dr Bike/Repair at The Larder and UCLan; fixed 75+ bikes (donated and own bikes);
Helped 20 access free ride support at Pedal Away, Moor Park, including Muslim women;
generated interest in everyday cycling in Preston through · Facebook page – Preston Pedals | Facebook – (435 followers, and growing!).
It also produced a film 'Bike to the Future'!
Donate to Preston Pedals
We are grateful for donations, and also appreciative of bike donations. Please get in touch via our Outlook email: prestonpedals@outlook.com or through the Preston Pedals Facebook page.
Donate to Preston Pedals
To find out more or get involved with Preston Pedals contact Julie: prestonpedals@outlook.com or follow us:
Latest News!
Preston Pedals has received a LCC grant to continue its work from July '23 – March '24 having successfully completed a Lottery 'Together for the Planet' funded 10 month project.
The LCC grant enables us to:
Re-energise much needed bike repair and ride support in Preston, building on the success Preston Pedals has had so far;
Recycle/reuse bikes (either donated or in people's garages/sheds etc) to decrease waste and tackle climate change;
Make bikes available free or low cost to those who can't afford them;
Upskill people so they can repair and maintain their own bikes and others' bikes ;
Enhance capacity of available instructors to increase people's confidence, skills and safety of both beginners and non-regular cyclists to encourage them to cycle more and to make cycling a positive transport choice.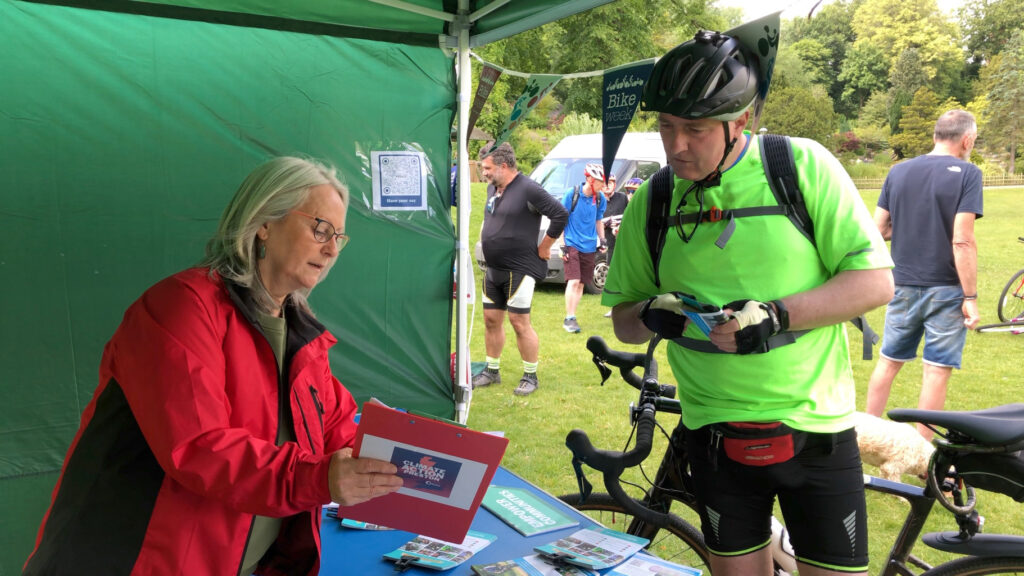 Other stories
'Preston Pedals into the Future' event
Preston Pedals had a great turnout for the 'Preston Pedals into the Future' event at The Larder Cafe, Arts & Community Hub on Sunday 16th July. Lots of great ideas were shared which the core group, led by Julie Ridley, will be taking into account. The group is currently working on a business plan for a community bike cooperative.
The vision created jointly by participants was to create a welcoming cycle-themed base and cafe, continue to offer bike repair/maintenance sessions in various locations, recycling/refurbishing bikes, being a campaigning group to liaise with Preston City and Lancashire County Councils to improve cycling in Preston and secure more bike parking (much needed in the city), raising awareness of the health and other benefits of cycling for adults and children.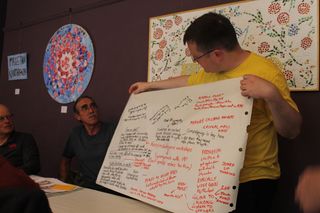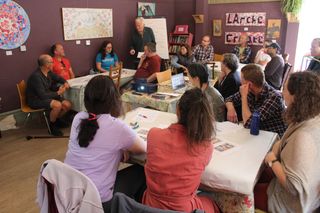 Julie from Preston Pedals wishes to say thanks to everyone who contributed and especially to Bill for his excellent cakes and drinks, funded through Preston Pedals' OSF grant; Ellen Fincher for her brilliant photos and mood boards; the PP team – Franc Ashcroft, Joanne Westwood, Tom Esslemont, Mike Moran, Ellen – and facilitators Gareth Nash and Dave Hollings from CMS.
Why Cycle?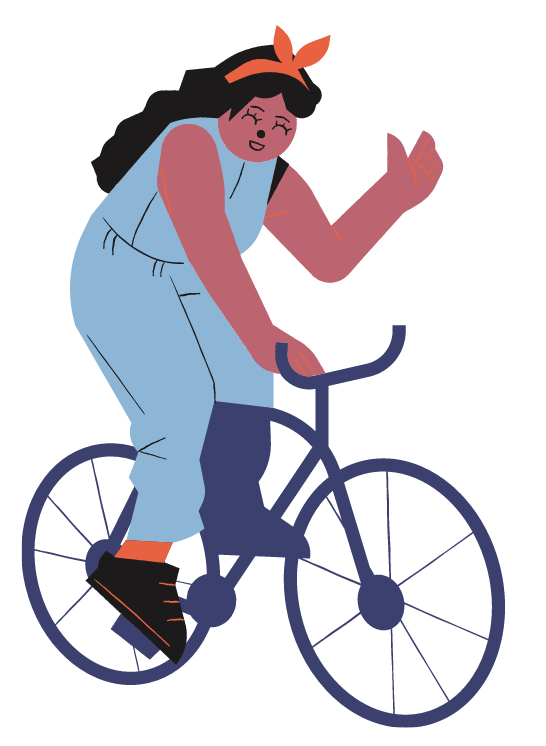 Cars spew out a lot of greenhouse gases. A fifth of that planet-warming pollution happens during journeys less than 5 miles – short journeys that could be made by foot or bike.
Walking and cycling are much healthier than sitting in a car. Even in areas of high air pollution, the benefits of exercise outweigh the risks linked to dirty air. Find out more about air pollution.
The Climate Action Preston Pledge 2021
We wrote to all the candidates of the local elections May 2021, asking them to pledge to make Preston a more cycling-friendly city. To read the letter please click here.
Preston Cycling Stories
How else can I get involved?
Explore and contribute to our interactive map: let us know how you think cycling infrastructure in Preston could be improved.
Our transport subgroup plans to hold online and in-person meetings. Email Julie to get involved in how we can achieve zero carbon transport in Preston, or if you have any questions: PrestonPedals@outlook.com